No, fashion trends do not bring us big surprises this year. Of course, in terms of recycling and sustainability, you should know that there is another simple basic that you probably already have in your wardrobe and that has all the signs of becoming one of the unexpected hits of the next season and what is left of it. These are the looks with the classic blue shirts that are already a trend and that you have to interpret as soon as you have the opportunity.
So ridiculously easy to match, the classic blue Oxford shirt already has its own stylish entourage of adepts.
And to continue with your responsible intention, these are the timeless and quality basics in which to invest this year.
It must be implausible to you that the great fashion buyers and retailers of the high street circuit have invested in a basic as simple as familiar within the traditionally masculine wardrobe (of course, also feminine), to outline one of the most relevant and unexpected trends of the year. Spotted on the catwalk through the minimalist perspective of The Row, the classic blue shirt is already starting to take off. Starring in the style choices of the most influential fashionistas in the industry. And it is that during the Haute Couture Week and the Men's Fashion Week in Milan, Alexa Chung, Sofía Sánchez de Barrenechea, and other dominant stylists of the current fashion trends were photographed.
With this great classic that they integrated into innumerable ways. While some defend it with traditionally feminine and effective weapons such as black miniskirts, printed midi skirts, and preppy style suits. Updated cut, others, displaying an impeccable and audacious style, face it with a very cool masculine role. Such as tailored suits with trousers and dress pants, both plain and checkered.
Besides, it doesn't matter that the shirt is dyed a plain blue shade because other classic versions with striped print are also super relevant, so any blue vintage shirt that you have lost and forgotten in the closet will do. We are personally very admirers of this great basic because it is that type of garment in which you do not have to spend a lot of time thinking and that we would also always be very happy, whether we are 25 or 85 years old.
Overview
Before you start looking like crazy for your blue shirts (go remembering to see if you can see it in a corner of the closet or some box out of season if you haven't been wearing it all this time), we want to bring you a little guide on how It is being interpreted by the best-dressed in the industry, with different combinations, tips and style twists that will leave you somewhat disoriented but well-motivated, you would never have imagined that you were going to see so many charms. We warn you: the desire to put it on again will be instantaneous.
Chunky maxi cardigan + blue shirt + printed midi skirt
Our favorite mix is ​​the one made by Chufy (Sofía Sánchez de Betak, aka Sofía Sánchez de Barrenechea) in an exquisite way with an intense blue shirt and a bohemian print midi skirt in earthy and natural tones.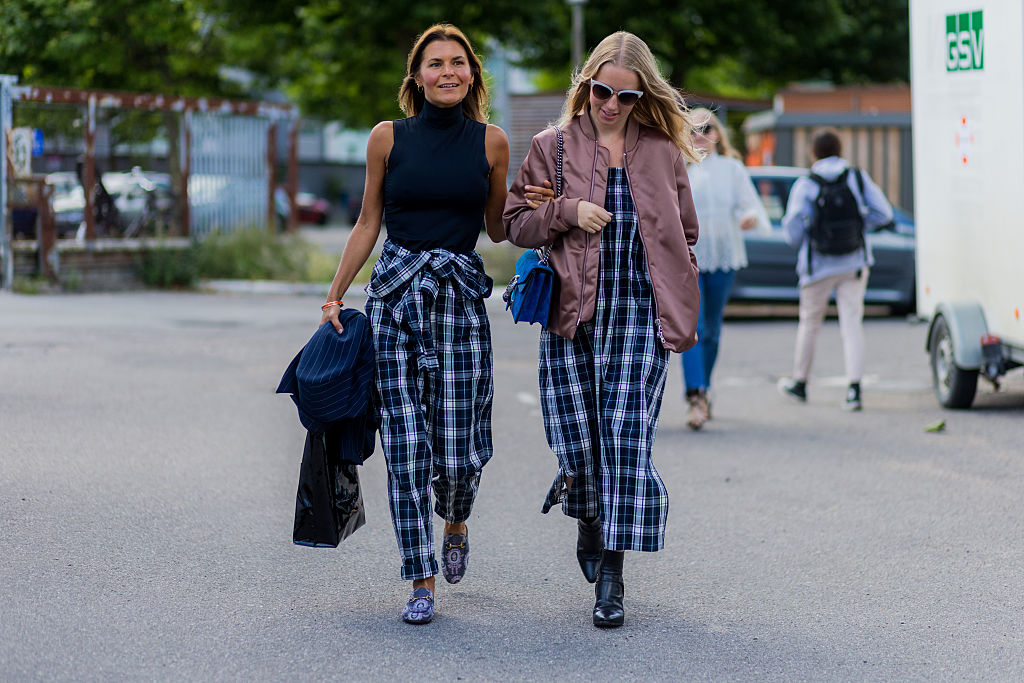 To finish conquering us, he finishes it off with a long chunky knit cardigan with a belt and high-top camel-tone boots. It would never have occurred to us to combine a men's shirt this well.
Blue shirt + black leather mini skirt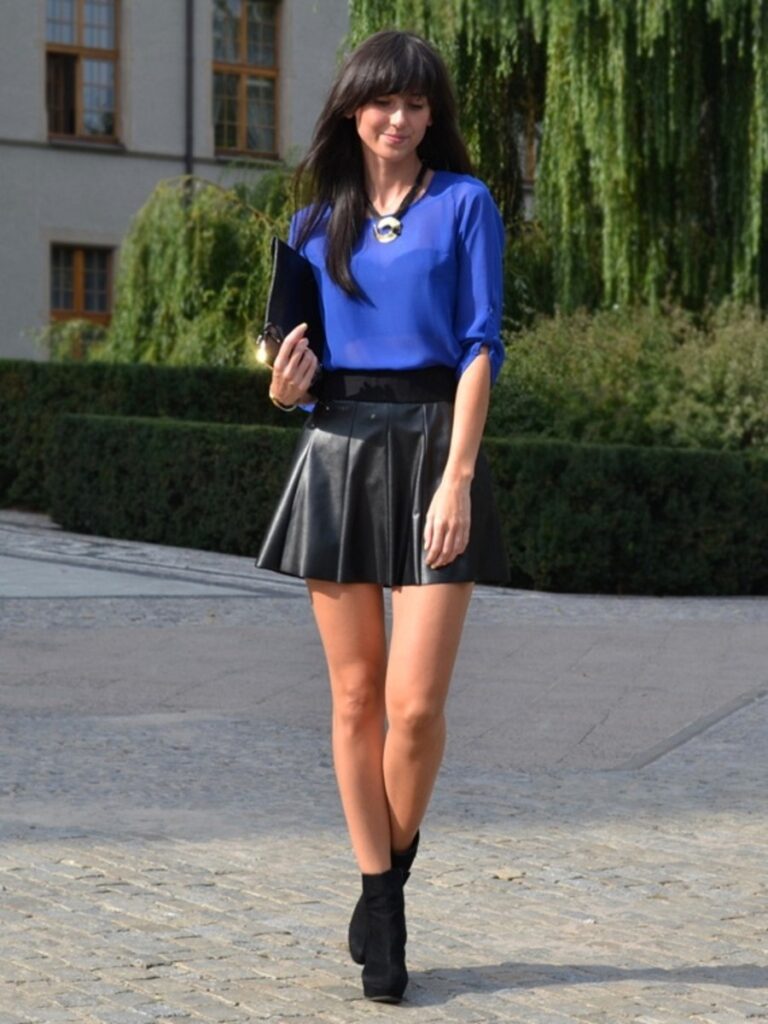 At the same Dior show, another of the greats of the style attended, Alexa Chung, exhibiting an equal parts preppy and rock's roll vibe. It has conquered us greatly. A shirt in the same shade of blue as her friend Chufy but contrasting the style with a black leather mini skirt.
To soften the look a bit, some black suede heeled babies and a pearl and coral necklace, as simple as it is flawless.
Male blazer + blue shirt + skinny jeans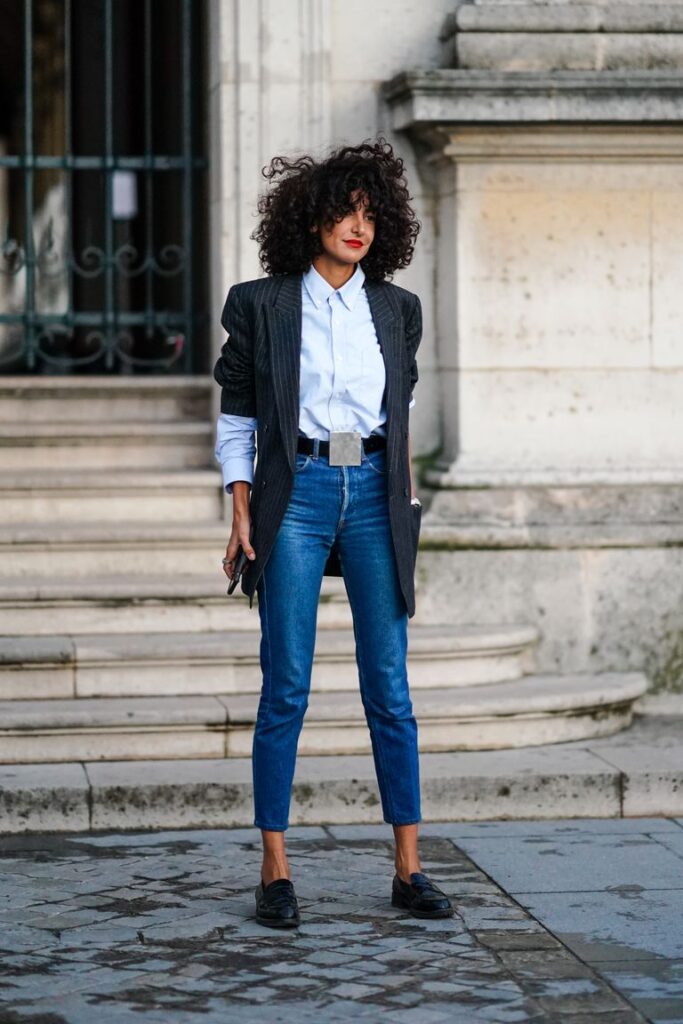 This anonymous street woman also breaks it up with a shirt in a lighter shade of blue. Mixing it with a somewhat oversized pinstriped blazer and a high-waisted denim skinny. The common thread continues to be the masculine role, so the loafers maintain aesthetic coherence within the style.
Tailor suit + blue shirt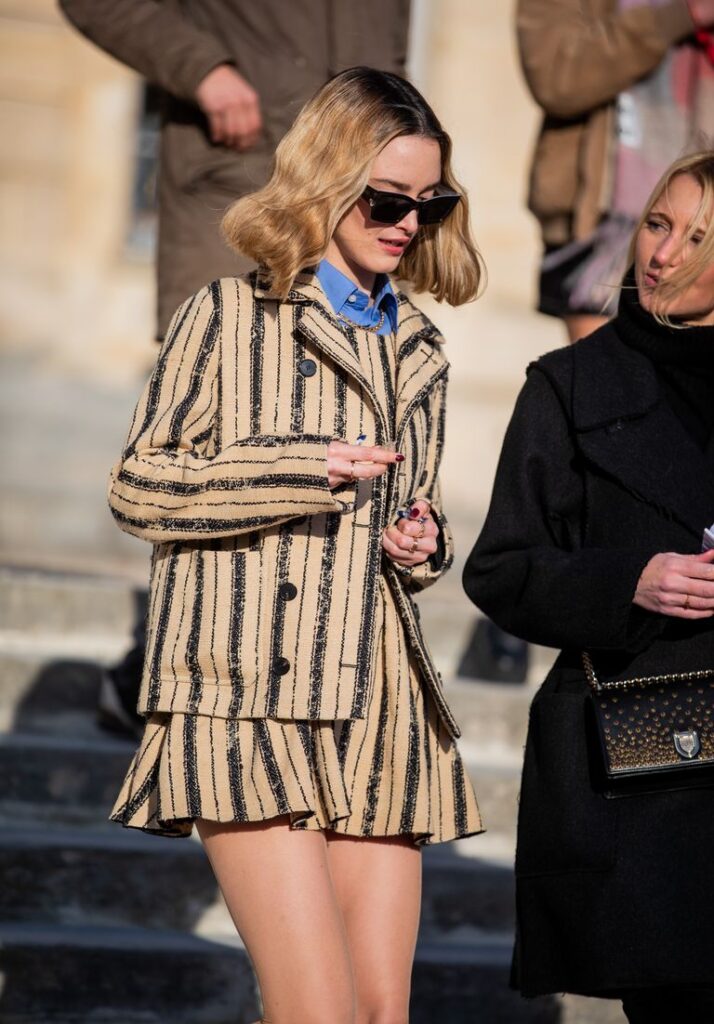 Something more collegial is the style worn by Charlotte Le Bon at the exit of the Dior show with a perfect blazer suit. And mini skirt with black stripes and beige background. We love how it contrasts with the intense blue of her men's shirt.
DO YOU NEED A NEW BASIC SHIRT?
The Spanish firm with the most incredible shirts
Leather mini skirt + blue shirt + oversized cardigan
Similar to the Alexa vibe, but more relaxed by the effect of a chunky knit, wide-striped cardigan and sensible-heeled black ankle boots.
Blue striped shirt + straight jeans + brown frock coat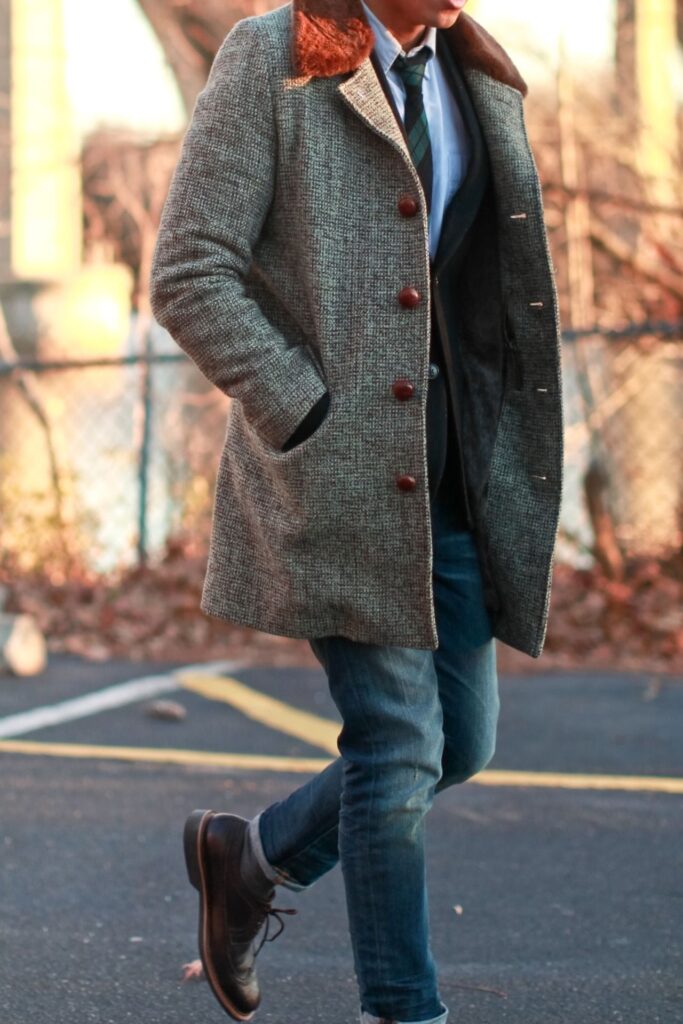 Do your old blue shirts make you a grunge spot? Well, nothing better than some worn jeans, a shirt on the outside, a light coat or frock coat on the outside, and a bandana around the neck.
Trench + blue shirt + tailored pants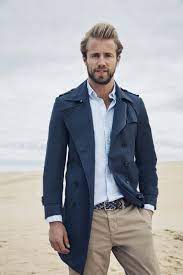 There is probably no more classic and formal combination than this if it weren't for the original and contrasting point of the Leo print in a top-of-the-line bucket hat.
Blue shirt + camel coat + black skinny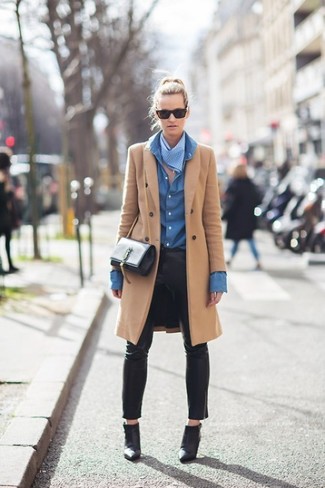 Is it still cold to wear the shirt to the body? Put a turtleneck sweater underneath (black, to be exact), wear it all with black skinny jeans, and refine it with a camel wool coat.
Blue shirt + 70's wide leg jeans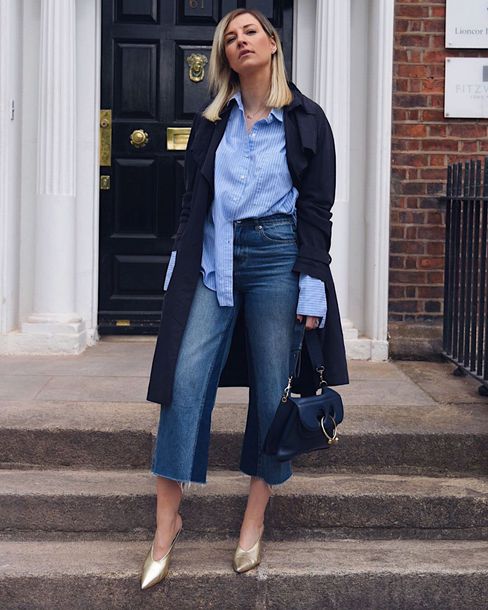 You can add the seventies touch to your blue shirts with high-waisted, wide-leg jeans, like Anne Laura Mais's.
Blue shirt + checked pants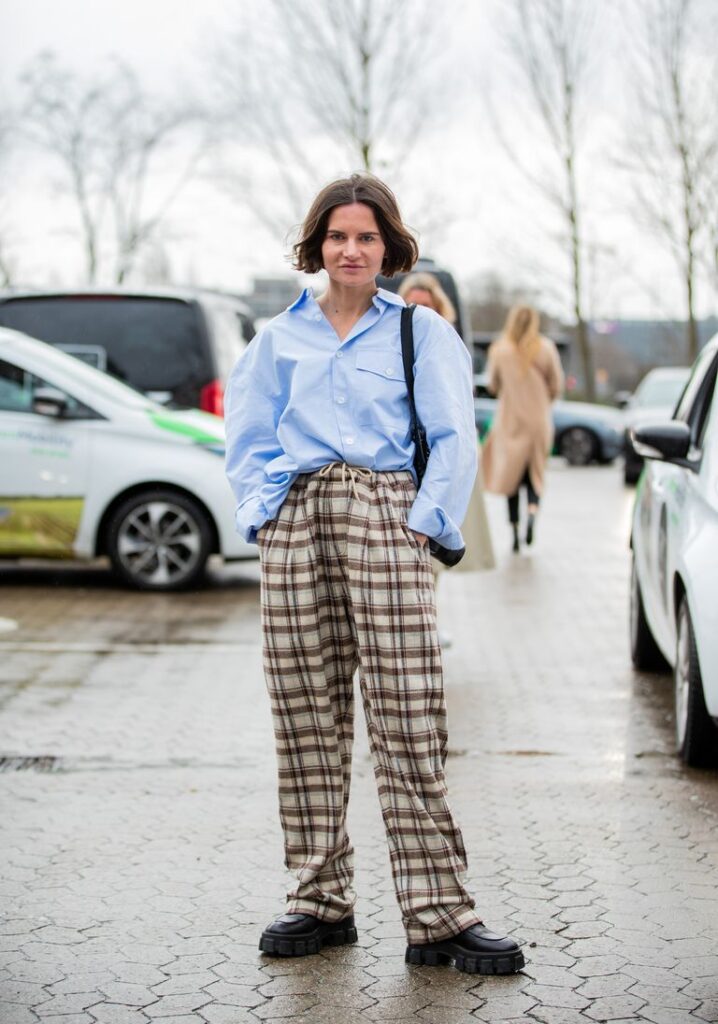 Don't forget to contrast your shirt with some good classic squares. To make it more current, look for fluid and spacious model, to wear with ugly shoes or military boots.
Male suit + blue shirt + overlapping shirt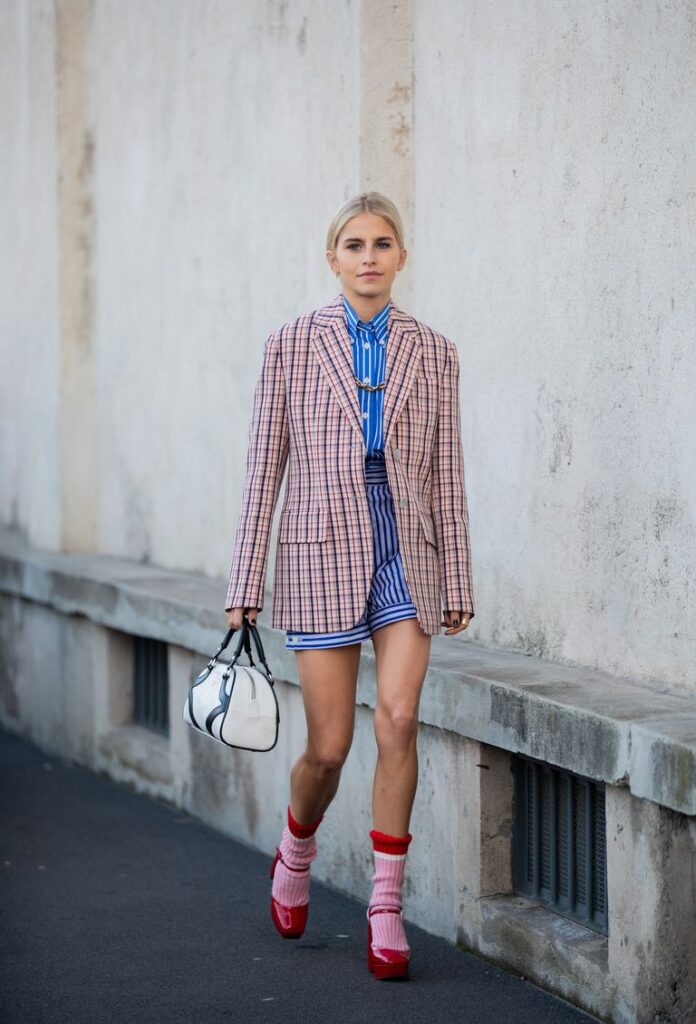 The cool and innovative vibe is put by Julie Pelipas. With a masculine suit and her blue shirt, but not in the way you expected. But with another superimposed silk shirt. The color? In terracotta for adequate chromatic contrast.
Blue striped shirt on the outside + black jeans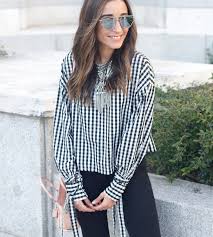 For those mornings when you do not feel like thinking too much, see how easy and how well a duo of a blue striped shirt works somewhat XL on the outside of black jeans, if it has a cropped cut, much better.
Blue striped shirt + plaid blazer + short
When the sun's rays warm, you can wear blue shirts with a shorts suit and a printed blazer. And the socks with heels, well, everything will go, right?