Pittsburgh, Western Pennsylvania is a land of nature attractions: rolling green hills, mountains, wildlife areas, and national parks. If you are not a fan of long road trips and they seem exhausting for you, that's not a reason to abandon the idea of visiting excellent places behind the city. One day in the fresh air without city life also allows one to feel that spirit and relax as well. 
In this article, we talked about three short trip ideas and some pieces of advice to make them perfect.
General things you should know before setting in
Every trip demands preparation, even just for one day. You have to rent a car or choose other transport and collect a trip items kit. Do not neglect this, and always get ready in advance to save money and avoid surprises when you suddenly realize that you forgot documents or something else during the drive. 
Car rental vs. Local transportation system
Day trips must be well-scheduled to avoid wasting time in high traffic because you have only several hours. The transportation system has a particular timetable, which isn't comfortable and not as precise as a clock.
Budget at Pittsburgh Airport offers a wide range of vehicles for an adequate price and also gives some free options in the airport, making car rental deals valuable. Don't know which auto will be suitable? The site contains short descriptions of car classes that help to get oriented. 
Essentials on your bag
Stay hydrated. Drink plenty of water and use lip balm.
Even when you have checked the weather, take warm clothes and a hat with sunglasses in your bag. Just be reinsured.
Moisturize your skin with cream and then lotion up with sunscreen. It also needs protection.
Paper map. GPS may lag.
Do not bring heavy subjects with you.
Painkillers. Do not allow unexpected aches to spoil the viewers watching.  
Examination the car
First of all, look at the vehicle closely, document every scratch and dent, take some photos, or record a short video. After that, check everything, by following this short list of tips:
Test your brakes.
Turn on and off your lights to find their efficiency.
Be sure that A/C is working.
Check whether you forgot something at least three times and remember about documents. And finally, you are welcome to choose the place. 
Laurel Caverns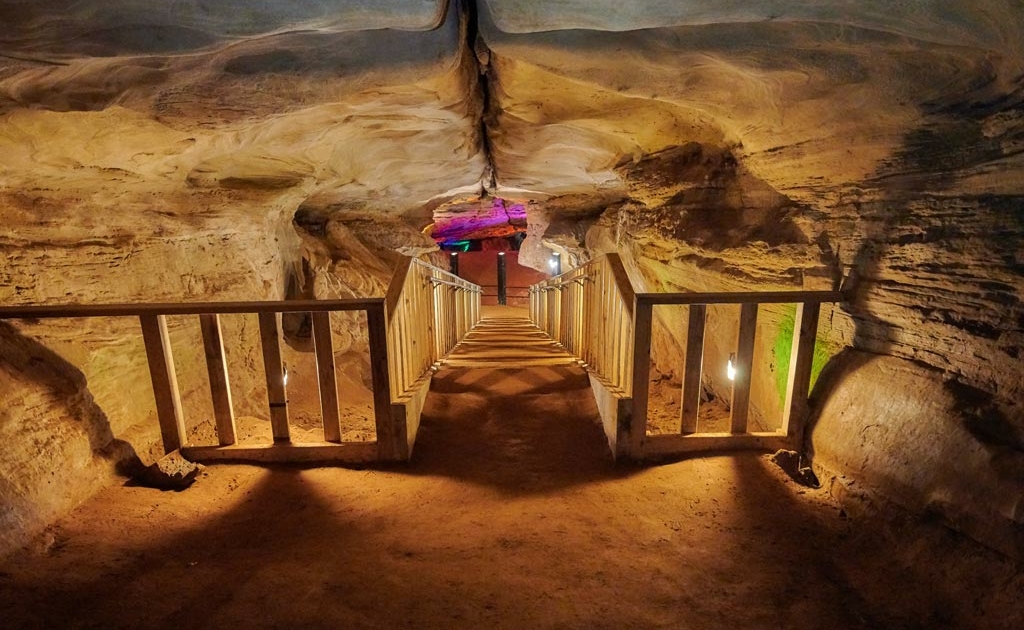 Distance: 90 mins from Pittsburgh
Admission: from $10 to $25
The deepest cave in the United States promises to be adventurous. One-hour tour to observe unique beauty and extended trip to explore wonders with a 3+ hour trip time. Get a cool trip (the temperature is only 52 degrees Fahrenheit) on a boiling summer day and learn how it feels inside the Earth. 
Top man-made attractions for the first visit
Natural cave beauty is exciting, and these attractions depict it. You won't even notice that they are artificial at once.
Appalachian Spring by Copland. This is a disco light shown in rainbow colors, which contrasts total darkness and a bright atmosphere in the same space. 
Mini-waterfall. More specifically, it is a copy of an existing formation reproduced right in the same place.
Have you ever seen the mirage in the cave? Try to catch an optical illusion during climbing up to the steep sections. You will get lost in the space because it is impossible to identify where it is up or down.
Ohiopyle State Park

Distance: almost 2 h from Pittsburgh
Admission: free
A full-season getaway where you can have fun anytime you decide to go. There are two picnic zones for the summer with grilles and tables and mainly, beautiful views nearby. Cucumber Run is a nook area, quite awesome for families with little kids. Meanwhile, Tharp Knob has impressive gorgeous scenery suitable for a romantic meal with your partner or an unusual date. 
Things to do
Refresh yourself with new activities. That's the best way to spend your day trip in the national park, especially when your routine doesn't allow you to keep active.
White water rafting is one of the popular activities in the park. Start with the lower section for the first time. 
Walk the Jonathan Run Trail. This one isn't difficult for beginners.
Hartwood Acres

Distance: less than 1 h from Pittsburgh downtown
Admission: free
Easy day trip to the 629-acre park with plenty of bridle paths and hiking trails through the woods. It was built in 1929 as a Tudor Mansion, which belonged to the Lawrence family. The private estate consists of gardens, stables, and houses, and now it is a part of the Allegheny County Park system. 
What can you see at the park?
Mountain biking trails. There are no divided hiking/biking pathways, so we recommend you be cautious.
Mansion and stable tours for a low price; admission is less than $7 per person.
Off-Leash Dog areas, where you can play and socialize with your pet and even attend special events. The site always updates information; track here.
Conclusion
A day trip from Pittsburgh is like an extraordinary journey to other universes; every time is rich with new emotions. Considering that desires to get new memories seeing new places will carry away. Thus, perhaps, your next trip will be longer, and you'll come back to see more. 
We wish you a safe road and good weather during your holidays.